---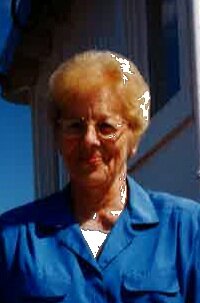 Calling Time
10:15 am - 11:00 am
Monday, October 10, 2022
Grace Christian Church
20 Center St.
St. Johnsville, New York, United States

Get Directions
Funeral Services
11:00 am
Monday, October 10, 2022
Grace Christian Church
20 Center St.
St. Johnsville, New York, United States

Get Directions
Obituary of Joyce V. Ten Eyck
ST. JOHNSVILLE – Mrs. Joyce V. Ten Eyck, age 95, a longtime resident of St. Johnsville, New York, passed away Wednesday morning, October 5, 2022, at Nathan Littauer Hospital Hospital, in Gloversville, New York. She was born Joyce Pontius, on January 15, 1927, at home, in Sherburne Four Corners, Town of Plymouth, New York, a daughter of the late Vinton and Gertrude (Mohr) Pontius. Joyce was the last of four siblings. The family moved to St. Johnsville soon after where she lived for the rest of her life and went on to graduate from the St. Johnsville High School, Class of 1945. She loved to go to the movies, dances and other social gatherings with her friends and at one of them she met the love of her life, Bernard A. Ten Eyck, of Fort Plain. Their marriage was a span of over 67 years and took place on June 12, 1948, at Grace Christian Church, in St. Johnsville, after Bernard returned from military service in Japan. They had two children, James M. Ten Eyck, born in 1952 and John D. Ten Eyck, born in 1954. During high school Joyce worked at Beech Nut supporting the war effort assembling tiny electrical parts for what purpose she never knew. Secrets really worked back then. After graduation, she worked for John Rapacz Insurance doing clerical and customer service work. After raising their family for several years, Joyce returned to Rapacz Insurance. The company was sold and then merged into Harvey-Triumpho Insurance, where Joyce continued to work until retirement. After retirement, Joyce enjoyed travelling, both with Bernie and separately with friends. She enjoyed cross country skiing, the company of family and friends, good books and just plain people watching. Joyce carried on independently after Bernie died on February 15, 2016, with the help of neighbors, amazing friends and fellow church members for whom she was so appreciative. Joyce joined Grace Church early in life and currently was the longest standing member of the church. This was an integral part of her life for 80 years since the age of 15. She was an active member for decades, volunteering her time at bake sales and church dinners and as a member of the prayer chain. Joyce was a beloved active member of our community. She was a board member of the St. Johnsville Ambulance Corps for many years. She was the first President of the Friends of Margaret Reaney Library, having volunteered her time there selflessly. She was the former treasurer of the Village of St. Johnsville Senior Citizens. Joyce is survived by her two sons, James M. Ten Eyck, of Oneonta, NY and John D. Ten Eyck and his wife, Monika, of Lewiston, NY; her two granddaughters, whom she so dearly loved, Courtney and Carly; and her sister-in-law, Stephanie Pontius, of Little Falls. She was preceded in death by her sisters, June Sabin and Eugena VanValkenburgh; and her brother, Robert Pontius. Funeral Services will be held on Monday, October 10, 2022, at 11:00 a.m., at the Grace Christian Church, 20 Center Street, in St. Johnsville, NY, with Rev. Michael Torres and Rev. Harry Teuchert, officiating. A calling time will be held Monday, from 10:15 a.m. to 11:00 a.m., at the church, prior to the Service. Interment will be at St. Johnsville Cemetery, after the Service and then we will go back to the church hall for a luncheon. All are invited to join us. Those wishing to remember Joyce in a special way are asked to consider a donation to the Grace Christian Church, 20 Center Street, St. Johnsville, NY 13452. Envelopes are available at the Service. Arrangements have been entrusted to her friends, Funeral Directors, Harry J. and Kevin E. Enea and Martin L. Ciaccia (518) 568-2300. An online note of sympathy may be delivered at www.eneafamily.com. Services are provided by the Enea Family Funeral Home, 9 Center Street, in St. Johnsville, NY.
Share Your Memory of
Joyce