---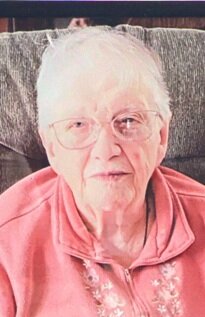 Celebration of Life and Graveside Services
1:00 pm
Monday, June 13, 2022
Locust Hill Cemetery
Pearl St.
Hobart, New York, United States

Get Directions
Obituary of Marion M. Pogue
ILION-HARTWICK – Marion M. Pogue, age 89, of E. Clark St., Ilion, formerly of Hartwick, passed away unexpectedly, on Friday, May 20, 2022, at home. She was born on May 13, 1933, in Schenevus, NY, the daughter of Gerald E. and Leta (VanValkenburg) Mulford. Marion was married to George Pogue, on July 12, 1980, in Stamford, NY. He died on August 16, 1984. At one time, she was employed at the Ben Franklin Store, in Oneonta. Later, she was a clerk/cashier, at the Cooperstown General Store, in Cooperstown, NY. She was a caregiver for ARC children, in Stamford, NY. Marion enjoyed crossword puzzles, puzzles and scrapbooking. She also liked to plant flowers in her flower beds, feed the birds and enjoyed her cat, "Stinker". In her early years, Marion played cornet in the school band and participated in several school plays, including the Prize-Winning "Stouthearted Freddie". Her church and community activities included Correspondent, for the Weekly Reader, 4-H Leader, Special Olympics Coach, the Stamford United Methodist Church "People Helping People" Fundraiser Chairperson, to rebuild Grand Gorge Church, after it burned, Volunteer at UDCAL Home for Mentally Handicapped, where she edited and sold UDCAL Cookbook and was employed there for three years. Also, she served as Trustee, at the United Presbyterian Church, Co-Moderator for Presbyterian Women and a Lay Speaker. As a Charter Member of VanValkenburgh Family, Inc., she served on the Genealogy Committee. Surviving family members include her 3 daughters, Joyce LaCelle and her husband, Jim, of Ilion, Karen Garvin, of Broadalbin and Loretta Ripley and her husband, Rick, of Waldoboro, Maine; her son, Vincent Aspinwall and his wife, Chris, of Ephratah, NY; several grandchildren and great-grandchildren; her brother, Marvin Mulford; and several nieces, nephews and cousins. She was predeceased by her husband; her parents; and her brother, Myron. A Celebration of Marion's Life and Graveside Services will be held 1:00 p.m., Monday, June 13, 2022, at Locust Hill Cemetery, Hobart, NY, next to her husband, George. Anyone wishing to share a memory of Marion, or add to her online memorial, may go to www.applegateandday.com In lieu of flowers, as an expression of sympathy, memorial contributions may be made to the American Heart Association, 125 Business Park Drive, Ste 106, Utica, NY 13502, or the American Diabetes Association, 110 Lomond Ct, Ste 1, Utica, NY 13502. Marion's service arrangements and supervision are entrusted to Funeral Director, Don Applegate, at the Applegate-Day & Enea Family Funeral Home's original location, at 102 West St., Ilion, NY (315-895-7722).
Share Your Memory of
Marion